Methodology: Our Way
Keret provides organizations with ongoing professional guidance and ascertains the organization's needs in order to minimize loss and increase profitability. Keret achieves these goals through the use of state-of-the-art technology. 
Keret provides system-wide solutions for every organization, both locally and nationally. Keret's experts focus on studying the status quo, identifying risks, planning required changes, setup and operation of security systems, and creating monitoring and control processes.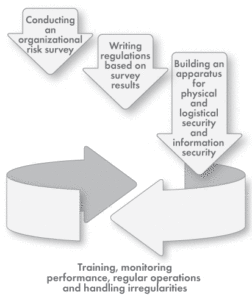 In order to ensure that the process is implemented within the organization, we offer training for managers and employees as well as monitoring and control tools that provide a quantitative index for implementing changes and processes within the organization.
Keret guides the organization – from defining the problems that cause losses to modifying procedures and work methods.
For further information on how we can assist your business, please contact us and we will be glad to be of service.